Karen Erwin Winner of The Lawyer Monthly Women in Law Awards 2018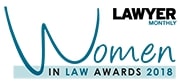 The Lawyer Monthly Women in Law Awards 2018  celebrate and highlight the achievements of women in the legal profession across the globe.
Karen Erwin has been selected for a Lawyer Monthly Women in Law 2018 Award in recognition of her outstanding legal expertise and contribution within the practice area of Mediation.
To ensure fairness and accuracy Lawyer Monthly's research department worked to a point based evaluation system which was applied to each person shortlisted for entry. Points were awarded for each of the criteria below:
1.  Votes received from Lawyer Monthly readers
2.  Amount of documented activity in 2017 when compared to industry peers
3.  Involvement in significant legal cases and legal activity
4.  Peer recognition and personal achievement
5.  Strategic thinking and planning
6.  Previous accolades and entries within the international legal guides
7.  Published articles and journals
8.  Client care and innovation
As past president of the Mediators Institute of Ireland and highly respected within her industry Karen Erwin has been recognised for her contribution to mediation in Ireland and internationally.